Cambodian agriculture officials unveiled their country's first ever national seed strategy while on a visit to the International Rice Research Institute (IRRI), recognizing the organization for its significant contribution to the landmark document.
The Cambodian delegation, led by H.E. Minister Veng Sakhon of the Ministry of Agriculture, Forestry and Fisheries, visited IRRI Headquarters in the Philippines to explore advanced agricultural technologies and innovations, particularly in seed health and mechanized seed production. While there, they took the opportunity to co-launch with IRRI the seed strategy, which was crafted in consultation with scientists from the institute.
"The Kingdom of Cambodia is extremely pleased to introduce our national seed strategy here at IRRI," said Minister Sakhon. "We are thankful for IRRI's expertise and knowledge in helping us develop comprehensive and integrated systems for seed production and distribution by 2023, which will greatly benefit Cambodian farmers by improving their access to high quality seeds."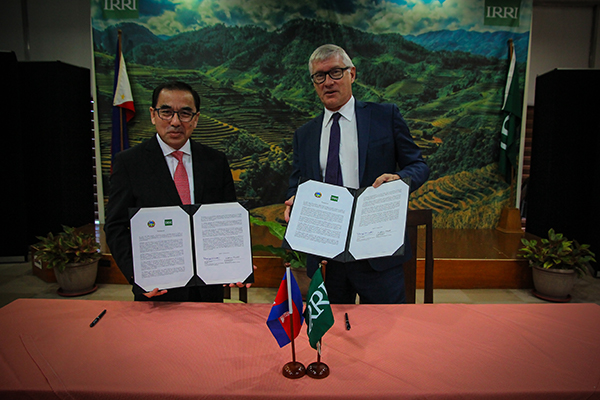 The seed strategy document, the first of its kind for the country, outlines a set of national strategic actions for the production and marketing of seeds for rice and other major agricultural crops. It also provides for the establishment of regulatory bodies and associated institutions, including the Department of Seed Management, the National Seed Council, a National Variety Release Committee, and various capacity building and training programs.
According to Dr. Buyung Hadi, IRRI Representative to Cambodia, the regulation and standardization of the seed industry will protect farmers and set country-wide guidelines for a diverse and vibrant commercial seed market. "For the first time, aspects like processing, milling, storage, packaging, and quality control will be well-regulated. Farmers will have greater confidence in the seeds they buy and will have wider choices in terms of quality, varieties, and suppliers, allowing them to maximize the potential of their crops and have better control of their livelihoods."
"IRRI is delighted to have contributed to this significant milestone in the modernization of Cambodia's seed sector," said IRRI Director General Matthew Morell. "With over three decades of partnership, IRRI and the government of Cambodia, through the Ministry of Agriculture, Forestry and Fisheries (MAFF), the Cambodia Agriculture Research and Development Institute (CARDI), and the General Directorate of Agriculture (GDA) have worked together to reduce hunger and poverty and help the country attain national food security. This new policy is an important step forward in the country's capability to handle emerging challenges, from growing populations to climate change."
Other members of the Cambodia delegation include H.E. Ngin Chhay, Delegate of the Royal Government of Cambodia in Charge, GDA; H.E. Seak Leng, Advisor, MAFF; Dr. Ouk Makara, Director, CARDI; Dr. Prum Somany, Director, Department of International Cooperation; Mr. Kong Kea, Director, Department of Rice Crop, GDA; and Mr. Khy Vibolbotra, Deputy Director, Department of International Cooperation.