Prime Minister of India Shri Narendra Modi furthered his vision of doubling farmers' incomes with the inauguration of the IRRI South Asia Regional Centre (IRRI SARC) in Varanasi, Uttar Pradesh today.
This research facility will strengthen the national research capacity of rice-growing countries in South Asia and sub-Saharan Africa. Delivering advanced research, teaching and services to improve crop production, seed quality and the nutritional value of rice, the centre will also work with national partners to enhance farmers' knowledge and income.
Prime Minister Modi took a tour of the state-of-the-art laboratories of the IRRI South Asia Regional Centre, interacting with the scientists of the institute.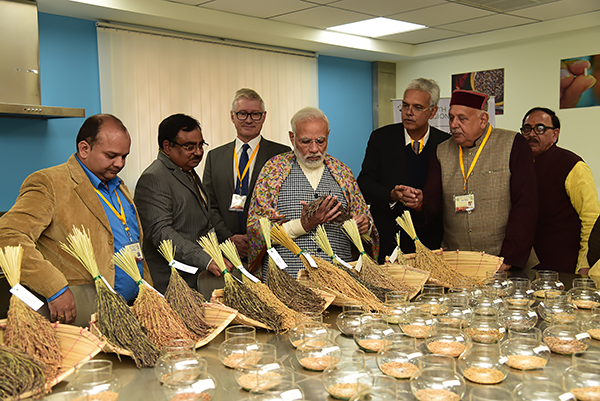 The inauguration was also graced by Hon'ble Governor of Uttar Pradesh, Shri Ram Naik; Chief Minister for Uttar Pradesh Shri Yogi Adityanath; Minister of Communications and Minister of State for Railways, Shri Manoj Sinha; Agriculture Minister for Uttar Pradesh Shri Surya Pratap Shahi, Member of Parliament (Chandauli) Shri Mahendra Nath Pandey; Secretary for Department of Agriculture, Cooperation and Farmers Welfare Shri Sanjay Agarwal; Principal Secretary Agriculture, Uttar Pradesh Shri Amit Mohan Prasad and Joint Secretary (Seeds), Ministry of Agriculture & Farmers Welfare Shri Ashwani Kumar. Representatives from the South Asian Association for Regional Cooperation (SAARC) and other key donors and partner organizations were also in attendance.
"This is a landmark moment for India and IRRI. This state-of-the-art rice research centre will catalyze South-South collaboration, strengthen the research expertise and capacity of rice-growing countries in the region, and contribute to the Sustainable Development Goals," remarked IRRI Director General, Dr. Matthew Morell. "It is only through the support of our network of global partners, such as the Government of India, that knowledge and innovations gained at this centre can be speedily tailored to meet needs of farmers in India, across South Asia and across Africa."
IRRI SARC facilities include the Centre of Excellence in Rice Value Addition (CERVA), a suite of modern laboratories where rice grains are assessed for quality and nutritional value and sensory evaluations for grain taste, texture, and aroma are conducted; on-site facilities. The education and training arm of IRRI SARC, IRRI Education, will teach scientists and agriculture leaders about the latest technologies and innovations for sustainable farming; and laboratories for digital crop monitoring and assessment, and demonstration fields where variety testing is conducted.