Africa has the highest reserves of untapped natural resources for food production, especially water and land. Over 130 million hectares in inland valleys are suitable for rice production, but only about 10 million are currently being used. Africa can substantially boost its food production, especially for smallholder farmers, if the region develops agri-food systems that are productive and resilient, providing balanced nutrition especially for women and children.
Our efforts in the region are geared towards contributing to food and nutrition security, and economic growth through innovative science, sustainable agri-food systems, and transformative partnerships. We focus on developing and deploying high-yielding and locally-adapted rice varieties and context suitable best management practices. These efforts aim to curb reliance on rice imports and will significantly contribute to Boosting Africa's rice sector, an Africa-wide rice development strategy.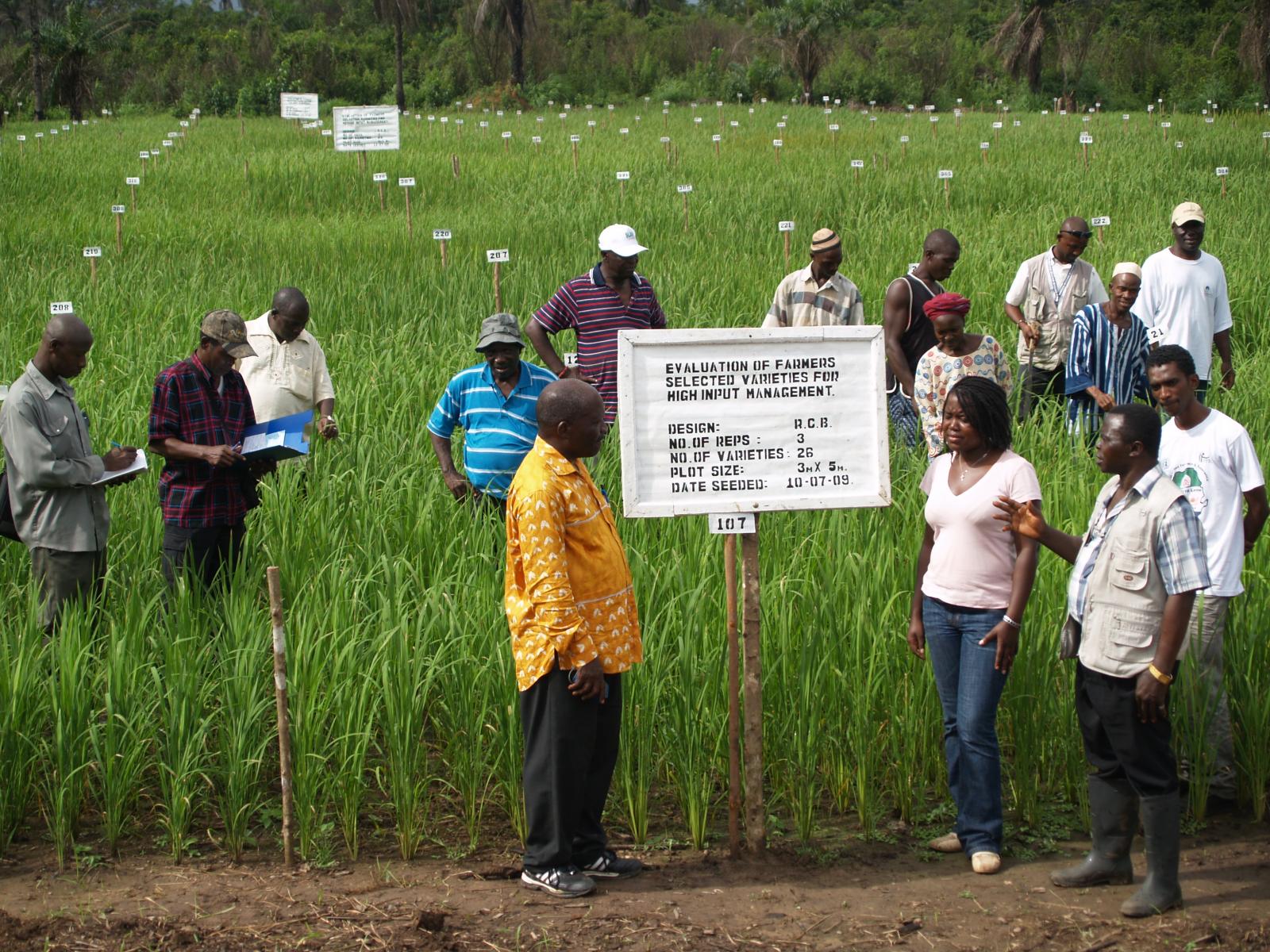 Challenges in Africa
Unreliable water sources in a region where rainfed farming still dominates rice production systems
Low-yielding and less adapted rice varieties susceptible to pests and diseases and sensitive to adverse weather and soil conditions
Traditional production and processing systems
Lack of affordable agrochemicals specially fertilizers
Insufficient local agricultural policies to enable significant shifts
Climate change resulting in extreme drought
Labor shortage more women engaged in farming
Limited opportunities for women and Youth
Inadequate post-harvest management practices and storage
Lack of good market opportunities
Climate-smart rice varieties
In collaboration with AfricaRice and national partners, we released 15 climate-smart rice varieties in several African countries. These varieties are more resilient and will reduce risks of crop failures and significantly enhance productivity. We also initiated system-based improvements through good agronomy, mechanization, postharvest and value addition, including better processing, packaging, branding and marketing.
Rice policy and systems
We will enable the development of strategic and effective seed systems by strengthening the private sector role and catalyzing enabling policies for engagement. These policies should facilitate faster varietal replacement and formal seed systems to provide high quality seeds, availability of inputs (especially fertilizers and other agrochemicals), and credit and marketing channels to support the growth of the African rice sector.
Research and delivery targets
Modern breeding approaches will be employed to facilitate faster development of tailored rice varieties, with broader adaptation and shorter durations for intensive systems. Developing resilient varieties with high yield and quality will encourage farmers to invest in inputs and take better care of their crops, with the target of doubling productivity. Productive and profitable agri-food systems. Management strategies need to be developed to maximize the potential of the new varieties within efficient and sustainable production systems that optimize resource use and augment farmers' revenues. Considerable gains could be made by replacing the current traditional systems with modern agronomic principles and practices. Bringing in new crops and vegetables will improve nutrition and income.
Building effective seed systems
Seed systems need to be built and strengthened, allowing improved rice varieties to be accessed by farmers in a timely manner. Public sector is relatively weak compared with Asia, wherein the role of private sector becomes indispensable. Strengthening the private sector's capacity and engagement could also facilitate provision of fertilizers and other agrochemicals.
Capacity strengthening across the value chain
Unlike Asia, rice is relatively young in Africa, and only recently it became a priority crop. Enhancing the capacity for rice research is therefore indispensable for rice sector development. A critical mass of post graduate researchers is needed to lead local activities of partners, including private sector and NGOs. Technical staff could be trained through short-term hands-on courses to fill in the current gaps in expertise.
Adoption of innovation
Efforts are ongoing to integrate rice industry innovations into the local rice value chain, through partnerships, education, and technology development and transfer, to maximize impact and produce substantive benefits for rice farmers, producers, and consumers.
Countries where IRRI is active
Stress-Tolerant Rice for Africa and South Asia (STRASA)
The project Stress-Tolerant Rice for Africa and South Asia (STRASA) was started by IRRI at the end of 2007 in collaboration with AfricaRice to develop and deliver rice varieties that are tolerant to abiotic stresses for the millions of farmers in rainfed rice-growing environments in Asia and Africa.
STRASA, conceived as a 10-year project, delivered the improved varieties to at least 18 million farmers on the two continents. The project ends boasting of significant spillover effects for non-participating countries particularly on the use of developed stress-tolerant rice varieties and participation to a regional cooperation on seed exchange agreement.