Rice is the staple food for more than half of the world's population, and a predominantly large portion of the global rice supply is produced, traded, and consumed in Southeast Asia. Food security thus relies largely on what goes on with rice in this part of the world.
We provide technical and policy support to governments in Southeast Asia for the development of their respective rice sectors. IRRI has been a key global hub for developing and disseminating high-yielding and resilient rice varieties, advanced cultivation technologies, and educational programs and tools to our national agricultural research extension system partners across the region and the world.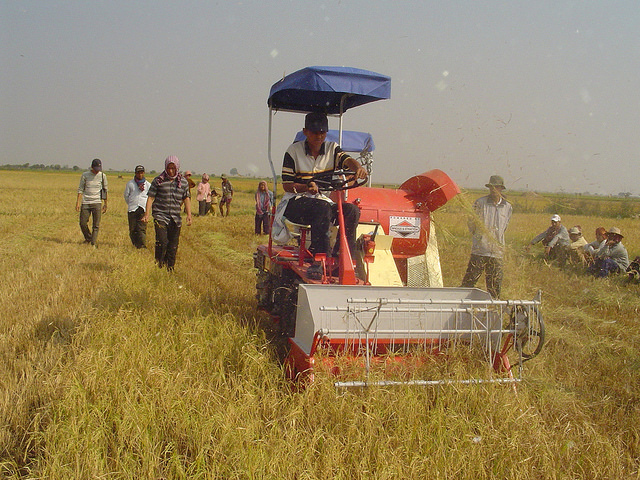 Challenges in Southeast Asia
Adverse effects of climate change with expectation of increasing incidence of flood, drought and coastal salinity
Increasing population and demand
Loss of arable land and competition for water due to urbanization
Inadequate supplies of high quality seeds and inputs
Vulnerability of farmers to biotic and abiotic shocks
Aging farm populations and increasing labor costs
High levels of crop losses in quality and quantity along the production – post harvest value chain.
IRRI has assisted agriculture ministries of various SouthEast Asian nations in drafting rice sector strategies, guided by the country's unique needs and experience, global trends, and more than 50 years of the institute's research and development into higher-yielding and sturdy rice varieties, technologies, crop management practices, and policy advice. 
Foster future-looking policy and collaboration
We work with governments and the private sector to find solutions for current and looming challenges in the rice sector. IRRI has taken the lead in multinational organizations like the Council for Partnership on Rice Research in Asia (CORRA), to creating multi-sectoral consortia for private sector partners like the Hybrid Rice Development Consortium (HRDC) and the Direct Seeded Rice Consortium (DSRC). We are also working with governments to improve the supplies of quality rice seeds to farmers.
Improving nutrition
As staple food for many of the world's poor, rice can be a convenient delivery vehicle for micronutrients that can prevent 'hidden hunger' and stunting in children. We are developing rice varieties biofortified with vitamin A, zinc, and iron, while there is early research on low glycemic index rice which can become part of a healthier diet for people who have, or are prone to, diabetes.
Addressing climate change
Southeast Asia will be seriously affected by climate change. Aside from crafting policy with governments that address its gradual and continuing effects, we are developing climate-smart rice varieties and crop management practices that can help rice production be more resilient to environmental shocks, from flooding and drought, to salinity and extreme temperatures. Further, in areas such as the Mekong delta we are working with partners to develop practices to help reduce greenhouse gas emissions.
Sustainable intensification
While the demand for rice in Southeast Asia is growing, resources for rice agri-food systems like land, water, and labor are diminishing. Through research and innovation, we are developing ecological approaches to management and resource-conserving technologies to support further intensification and diversification of rice systems. With partners across Southeast Asia are developing options with farmers to reduce the yield gaps which are on average only two-thirds of a farms potential agronomic yield. Through the Sustainable Rice Platform (SRP), IRRI has also developed a series of indicators to assess the sustainability of farm practices. 
Address losses in the rice value chain
Smallholder farmers tend to incur high losses in quality and quantity the post-harvest chain and, in Myanmar and Vietnam for example, IRRI is working with partners to introduce options for drying and storage. Technologies include small scale solar or rice-husk fueled dryers and hermetic storage bags that can be introduced at village level.  
Rice seed conservation
Through the International Rice Genebank, we are safeguarding rice genetic diversity from all over the world to enable research and breeding of improved rice varieties. This preservation also helps in replenishing lost or endangered varieties, like when IRRI reintroduced over 700 traditional rice varieties that were wiped out in Cambodia due to famine.    
Building knowledge and capacity
We establish systems and support existing ones that facilitate knowledge dissemination and adoption of rice technologies across major rice-producing areas. From IRRI Education and online databases and apps, to mechanization and on-the-ground knowledge delivery with our NARES partners, our efforts are aimed to ultimately benefit farmers.
Countries where IRRI is active