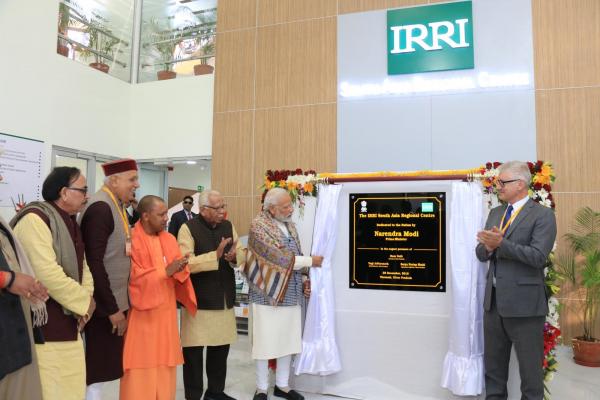 The International Rice Research Institute (IRRI) and the Republic of India achieved a significant milestone in their 56-year partnership by establishing the IRRI South Asia Regional Centre (ISARC) in Varanasi, Uttar Pradesh. On 29 December 2018, the Prime Minister of India, His Excellency Shri Narendra Modi, officially inaugurated this state-of-the-art rice research facility, to double the incomes of Indian rice farmers.
Located within the premises of the National Seed Research and Training Centre (NSRTC)  ISARC marks a significant expansion of IRRI beyond its headquarters in the Philippines. 
ISARC functions as a central hub for fostering research partnerships in the region, The center offers training and services to various institutions, scientists, and other stakeholders. Established through the Memorandum of Understanding between India's Department of Agriculture  & Farmers Welfare (DoA&FW) and IRRI,  ISARC's reach encompasses other countries in South Asia and Africa.
Recognizing IRRI as an international organization, the Government of India, through a Gazette notification on 04 October  2017,  granted the institute privileges and immunities as per the UN Privileges and Immunities Act 1947. These privileges and immunities extend to all offices and activities of IRRI in India, including ISARC.
Vision:
Deliver research services for development to the private and public sectors through cutting-edge laboratory facilities focusing on grain quality, crop production, and nutritional quality.
Facilitate knowledge transfer through specialized short courses in rice-based agri-food systems and other educational offerings by IRRI within the region.
Foster South-South collaboration to enhance the capacity of rice-growing countries in South Asia and sub-Saharan Africa in crop production and seed quality, ultimately contributing to increased farmers' income.
Acknowledging the significant contribution of ISARC in rice research and development in Phase I, the Indian Government signed a 5-year  (from April 2022 to March 2027)  agreement with IRRI through the Department of Agriculture and Farmers Welfare (DoA & FW) on 12 July  2022. The signing took place in the presence of Union Agriculture Minister Shri Narendra Singh Tomar and IRRI Director General Dr. Jean Balié, marking the initiation of Phase II activities and scaling up of the existing partnership for food and nutrition security in the South Asian Region
IRRI SARC Products and Services
Conduct research to achieve premium grain quality and better nutrition in rice, employing state-of-the-art technologies and advanced scientific methodologies.
Develop comprehensive grain and nutritional quality profiles for high-quality traditional rice varieties, contributing to enhanced food security, nutrition, and safety.
Investigate the superior nutrition quality and low glycemic index rice varieties to support the management of diabetes and promote healthier dietary choices for rice-consuming populations.
Explore the occurrence and mitigation strategies for heavy metal contamination in rice, encompassing the entire rice value chain, processing techniques, and the development of safe rice-based products.
Providing service support around a suite of grain, nutritional quality, and safety parameters to public NAREs partners, FPOs, start-ups, and private organizations
Focus on developing value-added products from high-quality and nutritious rice varieties with an aim to leverage the livelihood opportunities for rice farmers and other key value chain stakeholders.
Conduct and support the core program of research conducted by IRRI and its partners in South Asia through seven integrated domains namely: Innovative Breeding, Robust Seed Systems, Geospatial Intelligences, Adaptive Agronomy & Pest Ecology, Mechanization & Postharvest, Natural Resource Management, and Value Chain & Entrepreneurship Development.
Breeding climate-resilient and nutrition-rich varieties.
Deploying new varieties through robust seed systems.
Facilitating technology adoption for improved soil health, water productivity, and climate change adaptation.
Scaling adaptive, sustainable, cost-effective, management of pests,-diseases,-and weeds, and mechanization and postharvest practices.
Harnessing geospatial intelligence and ICT-based digital technologies for agro-advisories, targeting climate-smart interventions, and assessing crop production.
Sustainable inclusive value chains through entrepreneurial development 
Disseminating skills and technical know-how to value chain stakeholders - NARES/scholars/students/private sector (in collaboration with CEIRD).
Enhances system stakeholders' capacity through research-based upskilling and knowledge enrichment at ISARC.
Provides comprehensive training programs in science, leadership, and technology transfer through hybrid, online, and blended formats.
Nurtures future scientists, scholars, and the youth through sandwich, internship, and fellowship programs, fostering their professional growth and development.
Delivers easily accessible and scalable online/blended learning solutions through open educational resources (OERs), including micromodules, open online courses, and self-paced learning options.
Facilitates South-South Collaboration by promoting the sharing of knowledge, best practices, technologies, and innovations among countries in the global south.
Provides a comprehensive knowledge-sharing platform, offering a one-stop solution for rice production techniques, technologies, and best practices through dynamic and web-based knowledge banks.
Provides institutional capacity development and advisory services to diverse organizations.