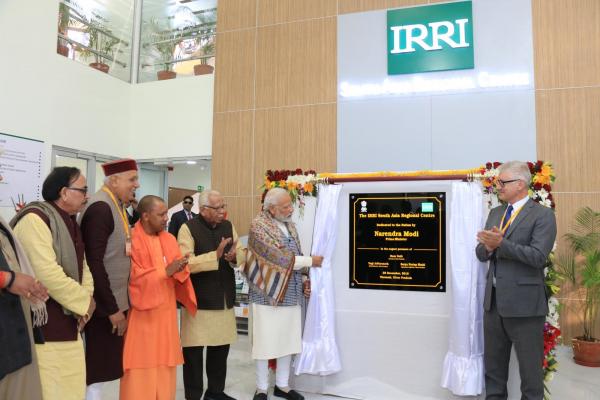 The 50-year partnership between the International Rice Research Institute (IRRI) and the Republic of India reached another significant milestone with the opening of the IRRI South Asia Regional Centre (ISARC) in Varanasi, Uttar Pradesh. The Prime Minister of India, His Excellency Shri Narendra Modi, officially inaugurated the state-of-the-art rice research facility on 29 December 2018, dedicating it to the people of India as part of his ambitious goal of doubling farmers' incomes.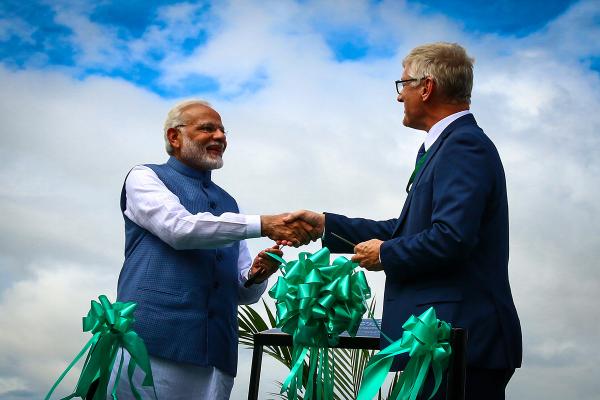 The IRRI South Asia Regional Centre is a regional facility that supports research collaboration, training, and service provision to institutions, scientists, and other stakeholders from India and other South Asian and African nations.
International Rice Research Institute South Asia Regional Centre (ISARC), Varanasi has been established at the campus of the National Seed Research and Training Centre (NSRTC) located in Varanasi through a Memorandum of Understanding between the Department of Agriculture Cooperation and Farmers Welfare (DoACFW, Government of India) and IRRI, Philippines. ISARC is the first research center of IRRI to be established outside of its headquarters in Philippines.
The Government of India vide its Gazette notification dated October 4, 2017 recognises IRRI as an international organisation and accorded privileges and immunities (As per UN Privileges and Immunities Act 1947) that are applicable to United Nations (UN) organizations, for all offices and activities of IRRI in India including, for the IRRI South Asia Regional Centre.
Vision:
Enhance South-South collaboration and strengthen the capacity of rice-growing countries in South Asia and sub-Saharan Africa in crop production, seed quality, and to enhance farmers' income.
Deliver research for development services for the private and public sectors through its state-of-the-art laboratory facilities for grain quality, crop production and nutritional quality.
Enable knowledge transfer through short courses on rice-based agri-food systems and other IRRI Education products within the region.
IRRI SARC Products and Services
Research toward the production of state-of-the-art grain quality in rice
Develop grain and nutritional quality profile of high quality traditional rice
Improvement of nutritional quality in rice
Research in low glycemic index rice
Understanding heavy metal contamination, Rice value chain, process and rice based product developments
Read more on IRRI's work on nutrition and grain quality.
Center for phenotyping excellence
Developing and delivering climate-resilient and stress-tolerant rice varieties
Production of new high yielding varieties that meet market demand and expectations.
Agronomy research on systems intensification and optimization, GIS, nutrient and water management
Intensifying cereal cropping systems to invigorate economic activities across many regions
Postharvest losses and straw management
Learn more about IRRI's work in South Asia.
Short training courses on rice based agri-food systems
Scholars and internships
IRRI Education products delivered to the private sector, NARES partners in India, international students from SAARC and Sub-Saharan Africa, and state and national government officials
Read more on IRRI's work on training and capacity building.